Hulk Hogan
Hulk Hogan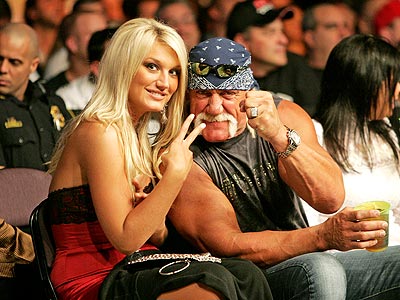 Hulk Hogan

Hulk Hogan
Say the word "wrestling" to anyone, and the name "Hulk Hogan" instantly comes to mind. For nearly three decades, the Hulkster has been the supreme icon in the wrestling world, headlining and selling out shows at stadiums all over the globe, while helping to transform sports entertainment into a billion-dollar industry — not to mention being idolized by millions of little Hulkamaniacs ages 1 to a 100.
A multi-time former WWE Champion of the world, Hogan has taken on all the greats — from King Kong Bundy and the Iron Sheik to Triple H and The Rock. In the process he has headlined ten WrestleManias, including WrestleMania III, when 93,173 fans packed the Silverdome in Pontiac, Mich., to see him body slam the 500 lb. Andre the Giant. His fans never fail to rise to their feet whether he's tearing off his shirt, flying from the top rope, dropping his famed big boot and leg drop on an opposing wrestler, or engaging in a post-match posing ritual, which is second to none!
And that's just inside the ring!
Hogan's resume outside the ring is just as impressive. The only wrestler ever to be featured on the cover of "Sports Illustrated," he has starred in numerous major motion pictures, including "Rocky III" opposite Sylvester Stallone. He is a frequent guest on "The Tonight Show" and "Live with Regis & Kelly" and even starred in his own TV series, "Thunder in Paradise." An accomplished bass player, Hogan spent 10 years as a professional guitarist before breaking into wrestling. His popularity is so great that he even considered running for president in 1996!
In 2005, Hulk Hogan was inducted into the WWE Hall of Fame by his long time friend, Sylvester Stallone. But that move hardly pinned him into retirement. The Hulkster starred in the reality series 'Hogan Knows Best,' which debuted in July 2005 as the highest rated show in VH1 history.
"Hogan Knows Best" opens the doors to the Hogan family home and provides a new definition of the "traditional" family. Audiences get an inside glimpse at Linda, Hulk's wife of 22 years who is the rock of the family, their daughter Brooke, who is on her way to becoming America's next biggest pop star while making the journey through adolescence, and Nick, a typical teenage boy whose primary interests are cars and girls.